Pronestor Planner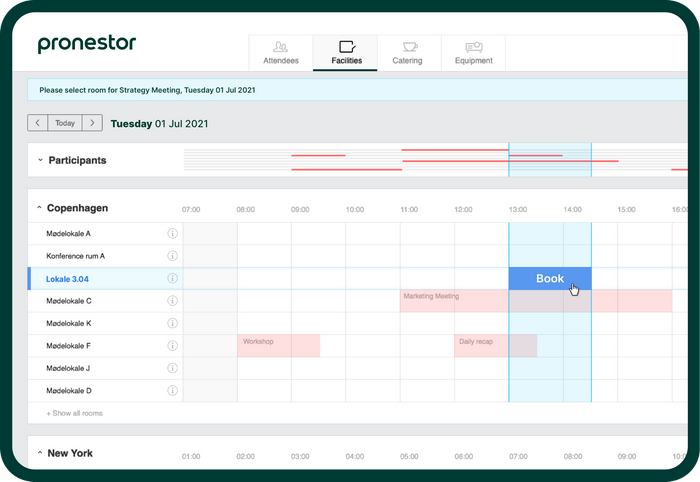 Effortlessly manage meetings, rooms and services
Pronestor Planner allows employees to book resources such as meeting rooms, equipment and catering in one streamlined workflow right from their desk or mobile. The system provides full overview of equipment available in which rooms and you can therefore easily set up meetings with everything you need. If you want to arrange a videoconference - simply find a room that's equipped and book it. Then invite your colleagues to join the meeting whether they're across the city or the other side of the world.
It's all integrated!
Pronestor Planner integrates with Outlook, Office 365 & Exchange. And it's there - right in the toolbar. That way it's immediately familiar to anyone that uses Outlook. There's no training required for end-users. It's transparent, complete and gives full overview of resource booking and allocation.
Catering is part of the menu
Catering is an integrated part of your booking flow. Every company is unique and this is why the catering view is tailored to your organization. The benefit of an integrated system is that the kitchen is automatically notified of your bookings. In addition, the system keeps in check storage availability ensuring that you can never order items that are out of stock. Kitchen managers, chefs, and staff can tell at a glance what they need and how many people need service. Accounting information is available on reports and works directly with your financial solution.
Book straight from your phone. Or tablet. Or desktop.
Creating convenient and flexible booking options are the primary target. With the mobile feature you are able to make bookings on-the-go. You can access your bookings through any smart-device, iOS and Android.