Pronestor Visitor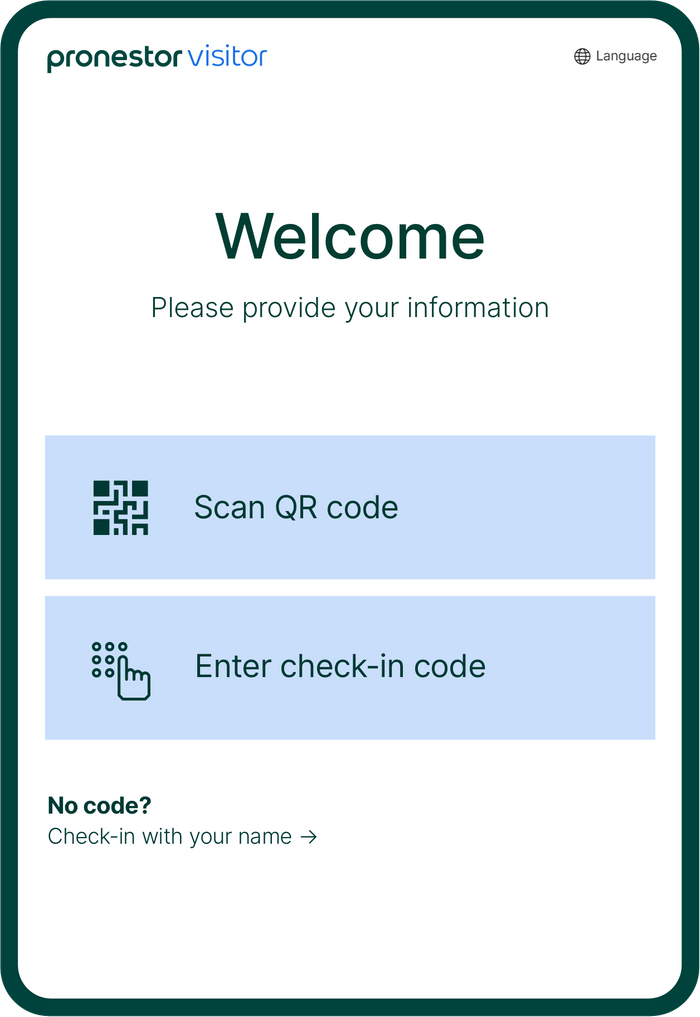 Get a complete overview of visitors
Pronestor Visitor is an innovative visitor management solution. Get a complete and detailed overview of your visitors: past, present and future. When your meetings are booked, all appointments are gathered in Pronestor Visitor, providing you with the complete overview and automated notifications once your visitors arrive. Reporting lets you see exactly who's been where and to see whom. Pronestor Visitor can handle multiple entry points across multiple locations.
Save time with mobile self-check-in
Before your meetings, your visitors will receive directions to your office and a boarding card – allowing them to check in by a simple scan with their phone.
An enabled QR code makes the check-in happen within seconds and provides the visitors with a name badge – and you can give your visitors WiFi access when they enter.
Reduce your reception's workload
Our self-check-in means that your reception can be handled automatically without requiring any staff. Your visitors simply register their arrival at your stand and the host is automatically notified. Once checked-in, a name badge is printed containing customized information including a code for easy checkout.
For managed receptions your receptionists can view every visitor, time for when they're due to arrive and who they're coming to see. Printing personal name badges is done with a click of the mouse.
Keep your office safe
With Pronestor Visitor you can inform your guests about your office guidelines before meetings and upon registration of their arrival. You can tell at a glance who is visiting, when they arrived and departed and who they came to see. If your premises need to be evacuated, Pronestor Visitor provides a complete register of all your visitors.