21 May 2020
Ultimo improves EAM by introducing integrated KPI dashboards based on Microsoft technology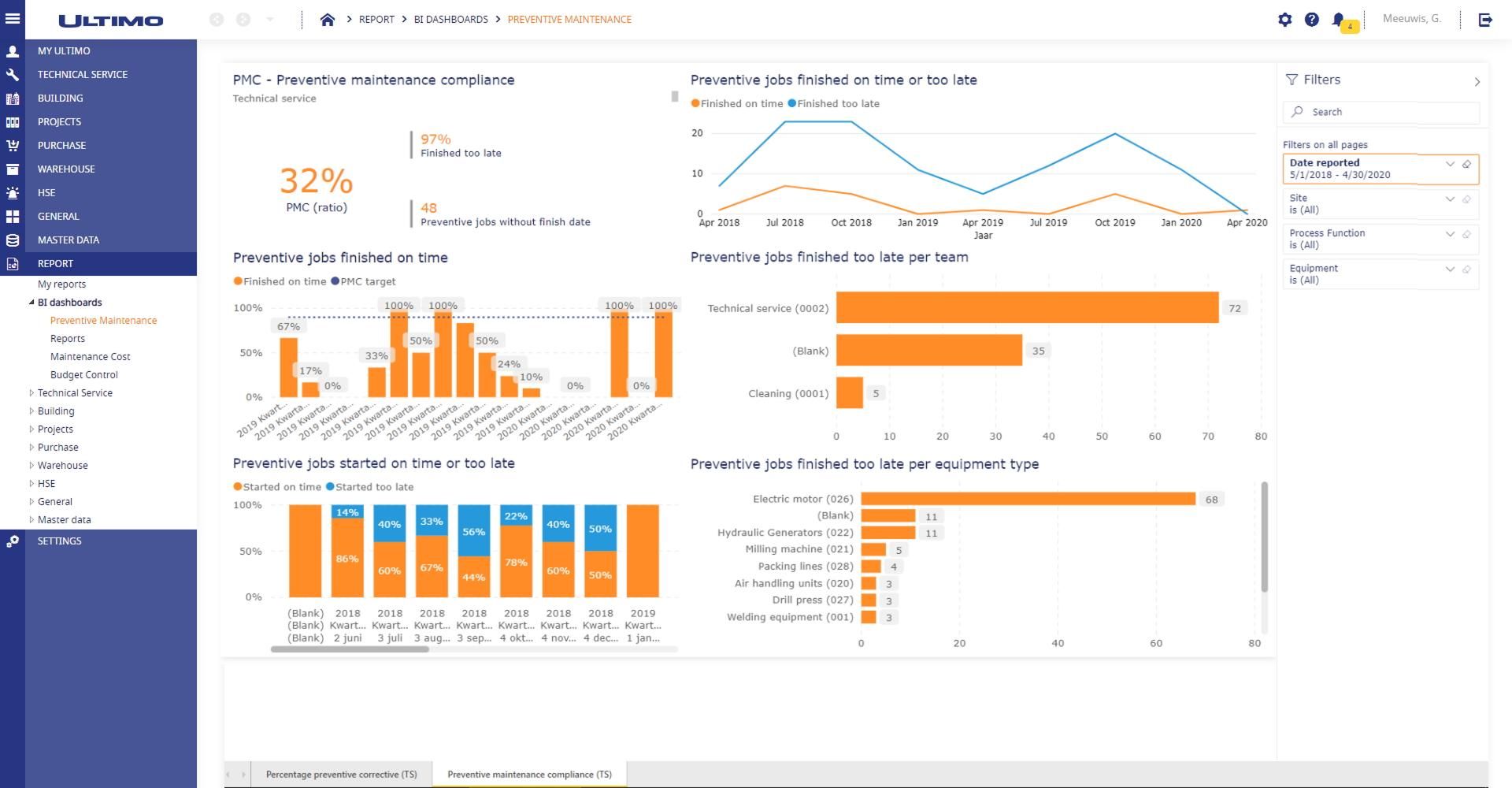 Starting the Ultimo 2020R2, Ultimo Software Solutions will default include KPI Dashboards for SaaS customers. This set of new dashboards has been built in the Microsoft Power BI Platform and offers users of the Ultimo Enterprise Asset Management software valuable management information. They provide users with management control information for well-substantiated policy choices. The new dashboards have been developed so reports can be made over longer periods of time and intelligent cross-sections can be made; this allows users targeted analysis through filtering and data drilling. The release of the Ultimo 2020R2 is scheduled for 1 July next.
From operational to control information
The Ultimo Enterprise Asset Management software already has extensive reporting options, which range from standard reports to a Reporting tool for end users. Existing reporting means are mainly tactical and operational. The introduction of the integrated Power BI dashboards means that the strategic needs of organisations are also addressed by the platform. Making these KPI Dashboards default available for SaaS customers is a first in the market.  "More and more organisations are getting a handle on their operational processes.  We increasingly see that Business Intelligence solutions are used to report about data from the Ultimo software necessary to achieve important KPIs. By offering a default set of Power BI dashboards, we are anticipating on this growing demand. The customer can get straight down to business and make use of the management control information in an easy way", says Chris van den Belt, Product Owner at Ultimo.
Default dashboards
The first set of default KPI dashboards aims at Maintenance control information. Five dashboards have been compiled, which provide management information about open activities, corrective and preventive maintenance, costs and budgets. The dashboards show trends and root causes. We will continue to develop and expand the Ultimo KPI dashboards on the basis of the requirements of the market.
About Ultimo
Ultimo Software Solutions bv is an international company that has been involved in the development of flexible standard EAM software since 1988. The Ultimo Enterprise Asset Management software allows organisations to professionalise their management and maintenance of all types of assets both within and outside of the organisation. Currently, over 2000 organisations home and abroad are using the Enterprise Asset Management software.
Note for the editorial staff. Not for publication:
For more information and visual materials, please contact Wendy Snell at sales@ultimo.com